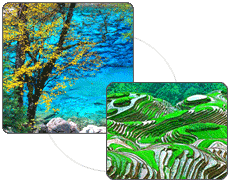 Multifarious weather conditions have endowed China with an abundance of flora and fauna resources, and that is why most of the farm crops, plants and wildlife in the world can be found in this country.

No country is so teeming with wildlife as China, home to more than 2,000 species of terrestrial vertebrates, 1,189 species of birds, 500 species of beasts, 210 species of amphibians, and 320 species of reptiles. Many animals are indigenous to China, such as giant panda, golden-haired monkey, unicorn taken, white-lipped deer (Cervus albirostris), and Chinese alligator.

China also boasts more than 32,000species of higher plants. Metasequoia, Cathaya argyrophylla, Pseudolarix amabilis, Eucommia ulmoides, and Fokienia hodginsii are indigenous trees in China. Hence China's nickname, 'World Treasury of Trees'. Some of the country's oldest trees have made a name for themselves for their close association with Chinese history. A cypress 20 metres in height and 10 metres in maximum girth in the Yellow Emperor's Temple in Huangling County, Shaanxi Province, is reputedly the nation's king of cypresses. The Zhou-dynasty cypress in the Jinci Temple in Taiyuan, Shanxi Province, is more than 3,000 years in age. China is also lauded as the 'Mother of World Horticulture' for a good variety of exotic flowers it has developed, such as peony, plum, winter jasmine and azalea.


More than 700 nature reserves have been established across the country to protect and preserve the native animals and plants, especially the endangered species. By June 1998, a total of 14 nature reserves - the Changbai Mountains, Mount Wuyi, Shennongjia, Fanjing Mountain, Dinghu Hill, Xilin Gol, Bogda, Fenglin, Yancheng, Xishuangbanna, Maolan, Wolong, Tianmu Mountain, and Jiuzhaigou Gully - had become part of UNESCO's Man and Biosphere Program.

With abundant natural resource, China is a world power in natural resource, the third largest country of the world, third in the world in the total value of verified deposits of mineral resources, fourth in the world in farmland acreage, and sixth in forest acreage. Its rivers rank sixth in total annual runoffs.

Another basic fact about China is that despite its immense natural resource aggregates, it is resource-poor on a per-capita basis, considering its huge population.