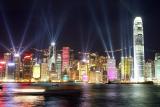 Located to the east of the Zhujiang River estuary, Hong Kong S.A.R. adjoins Shenzhen on the north and faces the Nanhai Sea (South China Sea). It consists of Hong Kong Island, Kowloon Peninsula, New Territories and the 183 small islands it governs and the sea areas. Area: 1095 km2.

Since ancient times, Hong Kong has been an inalienable part of the territory of China. It was occupied by UK after the Opium War in 1840. According to the Sino-British Joint Declaration on December 19, 1984, China resumed the exercise of sovereignty over Hong Kong on July 1, 1997 and founded Hong Kong Special Administrative Region.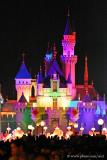 Hong Kong occupies the extension of the hilly land south of Nanling Ridge and has a subtropical maritime climate. The annual mean temperature is 22.8°C, and the annual average precipitation is 2225 mm. Autumn is the best season in a year. The main scenic spots include the History Museum, Botanical Garden, Ocean Park and Taiping Hill (Victoria Peak), etc. Besides, Tai O, a town on Lantau Island reputed as the Venice of Hong Kong is also worth visiting. It abounds in temples, Tin Hau Temple is one of the most famous ones.