Humble Administrator's Garden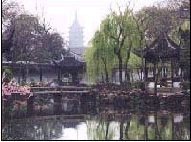 Zhuozhengyuan, or the Humble Administrator's Garden, is one of the four famous landscaped gardens in our country. It is among the first group of Historical Monuments and Cultural Relics under State Protection and is also listed as the World Natural Heritage. It was first built in the fourth year of Zhengde period in Ming Dynasty. Later Censor Wang Xianchen rebuilt it when returning home because of his failure in his official career. The garden was named after the connotation of one sentence from Pan Yue's article in Jin Dynasty. In the article "Watering Vegetables in the Yard", he said "to supply three meals a day, this is also a way of administration by humble ones".
The Humble Administrator's Garden was laid out in line with the local conditions. It was designed with the lotus pond at the center, surrounded by other pavilions and halls at random. In a natural style of primitive simplicity, these buildings still maintain the distinctive feature of Ming Dynasty with vast ponds and lush trees. Without going out of the city can man attain a pleasure in the woods here. The whole garden consists of 3 parts and some residential buildings. These 3 parts are divided into the eastern, western and middle part. Every part has its own distinctive features. "Its layout is so attractive that it leaves no pity for the visitors."

Copyright © 2005 - 2013, High Quality China Tours