Oliver Sandbar in Manghan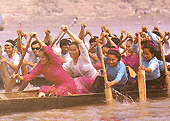 Oliver Sandbar known in the language of the Dai people as Menghan, the Oliver Sandbar on the Lancang Rivers a world-famous "peacock tail" meaning the most beautiful part of Xishuangbanna. "No trip to Xishuangbanna is complete without a visit to Oliver Sandbar" as the popular saying goes.
Situated at the end of a 37-kilometers trip down the Lancang River from Jinghong, and covering an area of 50 square kilometers at an altitude of 530 metres (the lowest point of Xishuangbanna), the Oliver Sandbar derives its name from the fact that its forever clothed in greenery and that it takes the shape of an olive. A total of 64 Dai-inhabited villages are found on the sandbar, and bamboo abodes gleam in the verdure of coconut trees, with water flowing past them all the year round, and flowers in full bloom in all four seasons. Thus the phrase "Bamboo pavilions under coconut trees" becomes synonymous to the Dai people's dwellings. The Oliver Sandbar, its tropical landscape looking sylvan in the ethnic Dai tradition, evinces an air of classic sanctity and natural repose.

Copyright © 2005 - 2013, High Quality China Tours