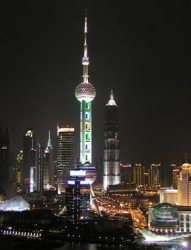 Shanghai, also called in short in Chinese "Hu" or "Shen", situated at 31.14 degrees north latitude and 121.29 degrees east longitude, in the middle of China's east coastline, is a gate to the Changjiang River valley. Shanghai has a delightful climate with four distinct seasons. The average temperature of the year is 15.7 ℃ and the yearly precipitation is 1,200 mm. Shanghai is a municipality under the direct jurisdiction of the central government. It is the largest economic and trade centre in the country and a comprehensive industrial base. Shanghai Port is the leading port in China. It is an open city along the coast, as well as a famous historical and cultural city. Its total area is 6,341 sq.km., of which the Pudong New Area occupies 523 sq.km. Its total population is over 13 million.
Shanghai is well-known both at home and abroad not only for its prosperous metropolitan feature and rich humanistic resources but also for a number of tourist attractions with modern flavour that have been developed i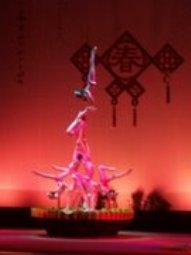 n recent years. Varied and colourful tourist festivities, like the Shanghai Torism Festival, the New Year Eve Longhua Temple Bell Striking, the Longhua Temple Fair, the Nanhui County Peach Blossom Festival, the International Tea Culture Festival, the Sweet Osmanthus Festival and the Orange Festival are attracting an ever increasing number of domestic and foreign tourists.

Shanghai is an ideal "shopping paradise"; Nanjing Road, known as "China's No.1 Street", the reconstructed Huaihai Road, Jinling Road, East, North Sichuan Road, the Yuyuan Garden shopping and tourist area, the Ever Bright City Commercial Centre, Xujiahui Commercial Centre, and Zhangyang Road Commercial Centre in Pudong are packed with rows of shops arrayed with large collections of merchandise that are a feast to the eyes and meet the demands of different classes of domestic and foreign customers. Shanghai is also a paradise for gourmets. There are over a thousand restaurants serving the famous 16 styles of Chinese food, such as Beijing, Sichuan, Guangdong, Yangzhou, Fujian, etc. There are also French, Russian, Italian, English, German, Japanese, Indian and other kinds of foreign flavoured cuisines, genuine Muslim food and vegetarian food. In Shanghai you can have a taste of all the different kinds of food in the world. Shanghai is well developed in communications in air, land and sea, which render tourists with fast, efficient and quality service.

In building Shanghai into an international metropolis the open-minded, cheerful and hospital Shanghai people warmly welcome visitors from all places in China and the world.