The First Pass Under Heaven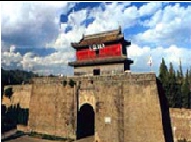 This pass, also called Shanhai pass, is located fifteen kilometers northeast of Qinhuangdao at the eastern terminus of the Great Wall. The "pass city" was built during the Ming Dynasty in the fourteenth year of Emperor Hong Wu's rule (A.D. 1381). It controlled communications between north and northeast China, a strategic location for which wars were often fought.
At the entrance to the pass is a twelve – meter – high rectangular city gate, which connects the Great Wall to the south and north. On top of the gate is a two – storied tower, which is 13 meters high, 20 meters wide, and 11 meters thick and decorated with painted eaves. The tower commands a spectacular view of distant Bohai Bay to the south and the tortuous path of the Great Wall to the north.
Copyright © 2005 - 2013, High Quality China Tours