This day Beijing tour begins at 09:00am and e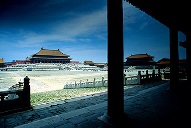 nds at around 5:00pm. Please get everything ready before our English-speaking guide meets you in the lobby of the hotel where you stay. It's about 20 minutes driving to the first stop of the main attractions.
The first stop is Tiananmen Square, which is one of the biggest city center squares in the world. Tiananmen Square stretches 880 meters from north to south and 500 meters from east to west, for a total area of 440,000 square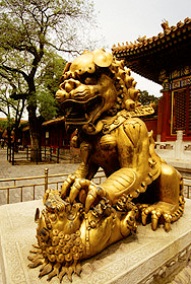 meters. At about 09:30am you can reach Tiananmen Square. So here a 30-minute walking tour is necessary for having some pictures taken as mementos. At 10:00am, the guide will lead you to the Forbidden City, which is also called Imperial Palace, through "Gate of Heavenly Peace". Tiananmen Square actually gets its name from the huge gate that stands on the north side of the square. The Chinese of Tiananmen can be translated into English as "Gate of Heavenly Peace".
The Purple Forbidden City contains the imperial palaces of the Ming and Qing Dynasties. Twenty-four emperors, fourteen in the Ming and ten in the Qing Dynasties, ruled here. It covers an area of 72 hectares. It is rectangular in shape, 961 meters long from north to south and 753 meters wide from east to west. There are 9999.5 rooms in the whole ancient Chinese architecture complex. There are 9999.5 rooms because Chinese used to believe that only the palace for the ruler in the heaven could have ten thousand rooms. But not all of the rooms are open to the public. For visiting the public parts, 2 or 2.5 hours are needed.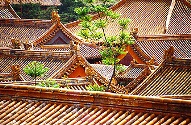 12:30pm, It is time for lunch when you finish seeing the Forbidden City. We would like to offer Beijing day tour with lunch in a local restaurant, which is included in the given price. We also consider that in this way you can learn a lot more about Chinese cuisines during your stay in China. 2 hours are needed for having lunch and driving to the next stop, the Temple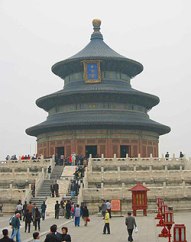 of Heaven.
The Temple of Heaven was built in 1420 during a time when many other important structures were constructed in Beijing. Emperors of the Ming and Qing Dynasties visited the Temple of Heaven to worship heaven and pray for an abundant harvest. This temple was for imperial use only, however, it is a public park today. The park spans 1,700 meters from east to west, 1,600 meters from north to south, and covers about 273 hectares. It is one of the largest parks in Beijing. All day long, you can see a lot of local folks in the park doing exercises, singing, dancing or something like that.
This day tour ends with the transfer back to your hotel at around 5:00pm. We hope that this day tour arrangement just fits your need. We look forward to hearing from you.