This day Beijing tour begins at 09:00am and ends at around 5:00pm. Please get everything ready before our English-speaking guide comes and meets you in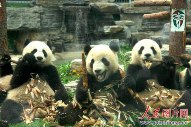 the lobby of the hotel where you stay. It is about 40 minutes driving to the first stop of the main attractions, Beijing Zoo, at which you can see Chinese giant panda.
Beijing Zoo was built in 1906 and opened to the public in 1908 with an area of about 10 hectares and a few humble pavilions to house the animals. At that time only several dozens of species were shown, such as lions, tigers, leopards and monkeys. Now Beijing Zoo covers an area of about 90 hectares. The animal houses and enclosures, with a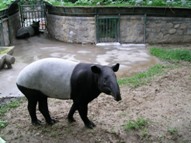 total floor space of 40,000 square meters, include those for pandas, elephants, brown and polar bears, tigers, hippopotami, rhinoceros, antelopes, giraffes and reptiles. More than 6,000 animals of over 500 species are on show. Among them are giant pandas, golden monkeys, addaxes, and tigers from Northeast China, elks, yaks, precious birds and gold fish. Also on show are rare animals from various continents, such as hippopotami, zebras, giraffes, chimpanzees, lions and antelopes from Africa, parrots from South America, birds and kangaroos from Australia, polar bears from the Arctic, bison from Europe and Asian apes.
One of the most famous mammals in the world, the giant panda is meek and looks like a bear. With the exception of its shoulders, its limbs and the rims of its ears and eyes, which are black, this lovable animal is white all over. Statistics show th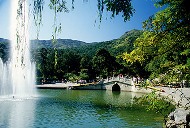 at China now has only approximately l,000 giant pandas living in the wild, in some remote mountain areas of Sichuan, Gansu and Shaanxi provinces.
12:30pm, it is time for lunch when you finish seeing the giant panda at Beijing Zoo. We would like to offer Beijing day tour with lunch in a local restaurant, which is included in the given price. We also consider that in this way you can learn a lot more about Chinese cuisines during your stay in China. 2 hours are needed for having lunch and driving to the next stop, the Fragrant Hills Park.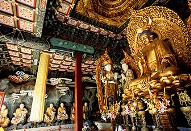 The Fragrant Hills Park, about 30 kilometers northwest of Beijing, is one of the most favorite resorts in the city's outskirts. It covers an area of 160 hectares. In 1186, in the Jin Dynasty, the Fragrant Hills Temple was built and terraces, pavilions and pagodas were added by the subsequent dynasties. The area was later converted into a park and was named the Park of Tranquility and Pleasure.
Along with Yuanmingyuan and the Summer Palace, the park was twice destroyed in 1860 and in 1900. The destruction was so serious that the reconstruction efforts made in the later years were never able to restore its original scale and splend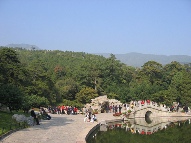 our. After 1949, large-scale restoration took place and now the Fragrant Hills Park is a pop- ular place in late autumn for holiday-makers when the maple leaves redden. The brilliant foliage is the main attraction. No one is sure where the sumac trees originated. Legend has it that a south wind carried the seeds of the red-leaf trees to Beijing. Then the seeds survived, and as years passed they grew into a lovely forest. Another story goes that the sumacs were transplanted to the area by Emperor Qianlong (l736-l795) of the Qing Dynasty. In November, the frosted leaves of these trees, along with the persimmons and maples, spread over the Fragrant Hills like a thick red blanket. For two centuries, it has been a resort for the residents in Beijing.
Major places of interest in the park include: Spectacles Lake,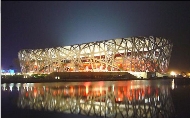 Studio of Tranquil Heart, Bright Temple, Glazed-Tile Pagoda, Yuhua Villa, Baisongting (The Lacebark Pine Pavilion), Ruins of the Xiangshan (Fragrant Hills) Temple, Banshanting (The Mid-Hill Pavilion) & Langfengting (Lofty Wind Pavilion), Shuangqing Villa, Xianglufeng (The Incense Burner Peak), Xiangshan (Fragrant Hills) Hotel, Smoke Trees.
This day tour ends with the transfer back to your hotel at around 5:00pm. We hope that this day tour arrangement just fits your need. We look forward to hearing from you.