This day Beijing tour begins at 08:30am and ends at around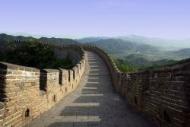 5:00pm. Please get everything ready before our English-speaking guide comes and meets you in the lobby of the hotel where you stay. It's about two hours driving to the first stop of the main attractions, the Great Wall at Mutianyu section.
The Mutianyu Great Wall in Huairou District is surrounded by high mountains and, vegetation rate reaches more than 80 percent. The watchtowers at Mutianyu are said to have been designed by Qijiguang, the Ming general who won many battles in southeast China. A number of his soldiers were fr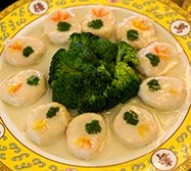 om south China, and perhaps they influenced the architectural style of the brick watchtowers – the shape of the lookout opening at the tops of the towers greatly resembles a fence design popular in that region. Two hours are needed for visiting the Great Wall at Mutianyu section.
12:30pm, it is time for lunch when you finish morning half day tour. We would like to offer Beijing day tour with lunch in a local restaurant, which is included in the given price. We also consider that in this way you can learn a lot more about Chinese cuisines during your stay in China. 2 hours are needed for having lunch and driving to the next stop, the Ming Tombs.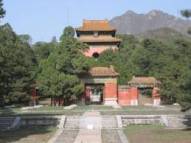 The Ming Tombs are located 50 kilometers to the northwest of downtown Beijing. The burial ground of 13 emperors of the Ming Dynasty (1368-1644) is embraced by mountains on three sides and opening to a flat basin on the south. Mangshan and Hushan mountains rise on either side. The Wenyu River flows to the northwest. The whole area of 40 square kilometers is covered with ancient pine and cypress trees. Changling, the oldest mausoleum in the center of the burial complex on Tianshou Mountain, was built in 1409 and Siling, the last mausoleum of the Ming Tombs, was built in 1644, 200 years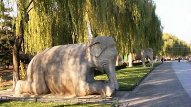 after the first one. It was the most costly construction project with the longest time in the construction of imperial burial grounds in China. In those days the area with a circumference of several dozen kilometers was tightly guarded, giving it a mysterious atmosphere.
This day tour ends with the transfer back to your hotel at around 5:00pm. We hope that this day tour arrangement just fits your needs and interests. We look forward to hearing from you.